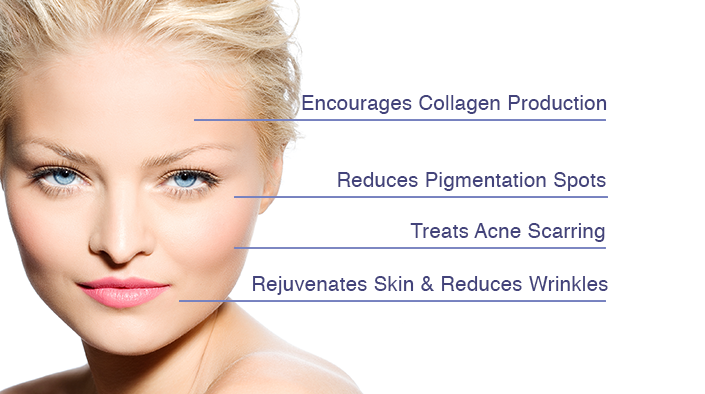 Microdermabrasion
Reduce the appearance of fine lines, sun damage, uneven skin tones and acne scarring.
Face -
$85
Neck -
$35
Décolleté -
$45
Ultra-resurfacing treatments customized to the individual needs of your skin, exfoliates dead surface skin cells, reduce wrinkles, scaring, sun damage, and leave skin firmer and healthier.
$90
Includes all boosters & enhancers according skin type. (Enhancers; Hyaluronic Acid, Retinol , Vitamin C, Kojic Acid, Antioxidant)
Consultation is required for this intensive aggressive peel.
$180
A dual-treatment process of microdermabrasion combined with a chemical resurfacing solution for a more advanced result on Sun damaged, Acne, Acne scars, Aging skin. $150
LED Light Therapy Facial (Anti-Aging) & Acne
LED is the latest technology of non invasive light therapy. LED red light is effective in reducing redness, firming and toning the skin. The LED blue light kills bacteria and reduces inflammation. LED is a great add on to any Facial.
$75
LED & Peel
A dual- treatment process of chemical resurfacing solution customized to the individual needs of your skin combined with Light therapy excellent for all skin types & Acne skin.
$115
A noninvasive, painless procedure in which surface dead skin cells are manually scraped away. Dermaplaning requires absolutely no recovery time. It increases cellular turnover, smooth and softens skin, removes the fine vellus hair, and provides immediate results. Dermaplaning helps reveal radiant, healthier skin.$85
Electro-Acupuncture Rejuvenation Facelift
A natural way to diminish lines and wrinkles. A treatment stimulates the production of collagen, enhances blood circulation and disperses the body's energy, Qi, into the right channels which enhances overall health and slows down the aging process.
$120
Microcurrent Facelift
​A painless alternative for those wishing the results of surgical cosmetic treatments. The treatment uses a waveforms of microcurrent, which stimulate the facial muscles using traditional acupuncture points of the face. It is the best alternative for women who wish to get back their youthful looks. The benefits of the procedure include eliminating fine lines, creases, and wrinkles, restoring the glow of youthful skin, visibly firming, contouring and lifting the overall droop; and tightening sagging jowls, double chins, and fatty cheeks. $120
Collagen Induction Therapy/ Micro Needling
Micro Needling works by creating micro-channels in the skin which act as pathways to help increase absorption rates of serums and active ingredients. In addition to product penetration, Clinical studies have shown that micro needling produces channels in the dermis which sufficiently stimulate the body's natural defenses to repair and produce concentrated amounts of collagen and proteins to the treated areas of skin. This results in the skins thickness being increased by up to 80% smoothing scars, visibly reducing stretch marks and erasing wrinkles. Treats fine lines, wrinkles, stretch marks, acne scares, hyperpigmentation.
$280
Radio Frequency Skin Tightening & Botox alternative $120
Customize your own facial by choosing 3 options from listed below: $175 ( Pick 3)
- Peel - Radio Frequency
- Ultrasound - Microdermabrasion
- Oxygen - Microcurrent
- LED - Dermaplaning